Curriculum
We want that education by which character is formed, strength of mind is increased, intellect is expanded and by which one can stand on his own feet.
1.Sports and Games:
The body is the first requisite for proper performance of life's duties. The school has a spacious playground to build sporting talent. Morning and Evening time special coaching classes or being held.
2.Student Council:
Encouragement is given at the School level to instill leadership qualities by electing leaders to smooth functioning of the school.
3.Art & Craft:
Creativity is an essence of life. Creativity can yield good results. They break path and act differently.
4.Exhibitions:

Exhibiting their skill can bring amazing creativity.
5.Extra coaching classes:
Extra remedial classes encourage their learning abilities.
6.Yoga:
Meditation builds inner strength creating sound mind in soundbody. Regular classes in progress.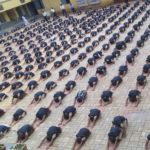 7.Scouts , Guides, Cubs & Bulbuls:
The scout and guides, Cubs & bulbul activities in the school will develop their full emotional, psychological, physical, intellectual, social and spiritual aspect.
8.Music:
Classical Music can bring harmony with body and mind and also helps to develop concentration.
9.Hostel facilities:
Providing healthy, rich and hygienic food.

10.Tips for Examination:
Giving the right mental attitude it could indeed be a fascinating adventure. Training has been given by well known specialist to meet students objectives.
11.Summer Camp:
Trying to bring out ours and neighboring students hidden talent by conducting summer camp every year.

12.Smart Classes:
We have smart class facilities for all the students