Facilities
Special coaching to the students in the mornings and evenings.
Well furnished lab, large. full-sized playground.
Library with a good collection of reference books.
Computer training, scouts and guides, Karate, Yoga Classes and Drumset training.
Special Scholarship to poor and talented students and athletes.
Computer Education: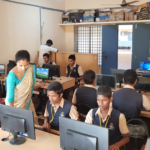 Education is a part and parcel of present day education system. Our school has a separate computer lab with 25 systems. Students are given practical training in Computer Operation and Internet Browsing. At the end of the Course they are provided with the certificates in different courses like Diploma, Internet etc. Our Centre is affiliated with Manipal Institute of Computer Education.
---
Library: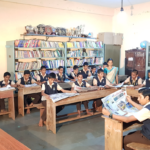 "A Good Book is the Best Friend." In acquiring the knowledge a library plays an important role. Our Library holds more than 10,000 books on different subjects and made available to the students and teachers for reference. Besides six daily news papers and four periodicals are provided to the students to encourage the reading habit.
---
Laboratory: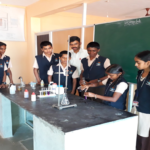 The Institution is having a full-fledged Laboratory with modern equipments. This is helping the students to get the best available first hand knowledge of science. Students are allowed to conduct the experiments themselves. under the guidance of the teachers. The Laboratory is equipped with projector facility too.
---
School Bus Facilities: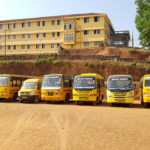 For the convenience of rural students, who are eager to get good education, School Bus Facilities is provided by the Management. Presently there are Seven Buses running in different routes. i.e Ramakunja to Uppinangady, Kanchana, Kunthoor & to Golithottu, Yenithadka, Sharavoor, Neerakatte. This Year 400 Students come to school by these buses. This facility has helped our students to reach the school in time safely. Due care is being taken for the safety and security.
---
MATHPEDIA(Mathematics Lab)
---
Science lab
---
"Yoga for life" SREM Residential School, Ramakunja 2022
---
ಭಾರತ್ ಸ್ಕೌಟ್ಸ್, ಗೈಡ್ಸ್ ಪರೀಕ್ಷೆ: 13 ವಿದ್ಯಾರ್ಥಿಗಳಿಗೆ ಗೋಲ್ಡನ್ ಆ್ಯರೋ ಪ್ರಶಸ್ತಿ
ರಾಮಕುಂಜ: 2021-22 ನೇ ಸಾಲಿನ ಭಾರತ್À ಸ್ಕೌಟ್ಸ್ ಮತ್ತು ಗೈಡ್ಸ್‍ನ ಗೋಲ್ಡನ್ ಆ್ಯರೋ ಪರೀಕ್ಷೆಯಲ್ಲಿ ಶ್ರೀ ರಾಮಕುಂಜೇಶ್ವರ ಆಂಗ್ಲ ಮಾಧ್ಯಮ ಶಾಲೆ ರಾಮಕುಂಜದ 13 ವಿದ್ಯಾರ್ಥಿಗಳು ಉತ್ತೀರ್ಣರಾಗಿ ಗೋಲ್ಡನ್ ಆ್ಯರೋ ಪುರಸ್ಕಾರಕ್ಕೆ ಆಯ್ಕೆಯಾಗಿದ್ದಾರೆ.
ಕಬ್ ವಿಭಾಗದಲ್ಲಿ ಛಾಯಾಸ್ವರೂಪ್ ಎ ಜಿ, ಅದ್ವಿತ್ ರೈ, ಸುಮುಖ ಎಸ್, ಹಾಗೂ ಶ್ರೇಷ್ಠ ಪಿ ವಿ. ಬುಲ್ ಬುಲ್ ವಿಭಾಗದಲ್ಲಿ ತನ್ವಿ, ಎನ್ ಸಿ ಜಶ್ವಿತ, ಸ್ವಸ್ತಿ, ಸೃಜನ ಕೆ ಎಸ್, ಶ್ರೇಯಾ, ಆತ್ಮಿ, ಜನನಿ, ಲಿಷಾ ಪಿ, ಹಾಗೂ ಶಿಮಿಕಾ ಗೌಡ ಇವರು ಉಡುಪಿಯ ಮುಕುಂದ ಕೃಪಾ ವಿದ್ಯಾಲಯ, ಕೃಷ್ಣ ಮಠ ಇಲ್ಲಿ ನಡೆದ ಪ್ರಶಸ್ತಿ ಪ್ರಧಾನ ಸಮಾರಂಭದಲ್ಲಿ ಪ್ರಶಸ್ತಿ ಪಡೆದುಕೊಂಡಿರುತ್ತಾರೆ. ಇವರಿಗೆ ಕಬ್ ಮಾಸ್ಟರ್ ಸುನಂದ ಕೆ ಸಿ, ಕವಿತಾ ಬಿ ಹಾಗೂ ಫ್ಲಾಕ್ ಲೀಡರ್ ಸಂಧ್ಯಾ ಎ ಇವರು ಸಂಸ್ಥೆಯ ಕಾರ್ಯದರ್ಶಿ ಕೆ ಸೇಸಪ್ಪ ರೈ ಆಡಳಿತಾಧಿಕಾರಿ ಆನಂದ್ ಎಸ್ ಟಿ, ಮುಖ್ಯೋಪಾಧ್ಯಾಯಿನಿ ಲೋಹಿತಾ ಎ ಇವರ ಮಾರ್ಗದರ್ಶನದೊಂದಿಗೆ ತರಬೇತಿ ನೀಡಿರುತ್ತಾರೆ ಎಂದು ಸಂಸ್ಥೆಯ ಪ್ರಕಟಣೆ ತಿಳಿಸಿದೆ.